I'm joining Mary Ann and Cindy to share our five favorite things this week. It's where I found this $20 dress and these $30 sandals from Cindy & Mary Ann with their recent posts on favorites! I can't say that I've done a lot of shopping lately, I don't think anyone has with some shops being open only by appointment and most still having shortened hours, but somehow I had no trouble coming up with five favorites this week. In fact, it was hard to keep it to five!
Prisma Photo Editor App – It's similar to the Waterlogue app in that it takes your photo and makes it into art. With the Prismo Photo Editor app, you can upload a photo from your camera roll that maybe doesn't even have great lighting or composition. You apply one of the filters, and it creates the art in less than 3 seconds. You can try multiple filters and then save the one you like.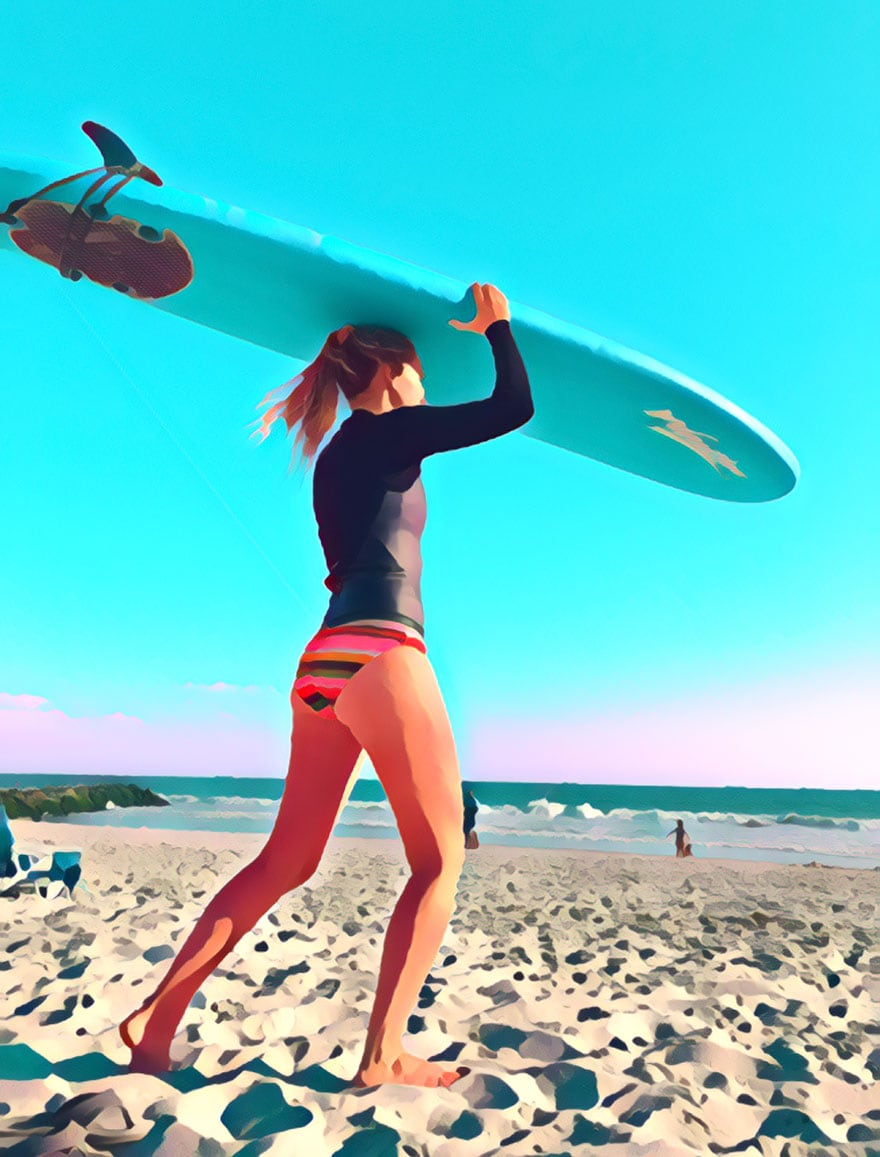 I somehow discovered the app when we were surfing in the Rockaways with the kids this summer. On the way home I kept sending different versions of the photos to my kids and they were so surprised with the results. I mean what kid doesn't love to see a cool photo of themselves? You can read more about it here. It's not free, but I think it's worth the $29 a year!
Here you can see a photo that Brent took of Patrick and me as we were walking back to the house one-night last week. It was nothing special…but it's kind of cool using the Photo Prisma app.
Madeline moved into her new apartment in the city, but by Friday she was ready to come back and spend the weekend with us…or maybe it's that she needed a trip to Target and she knew I would be more than happy to oblige. While getting things like a can opener, a zester, and a new shower curtain, we found this dress that we both loved. She will wear hers as a dress and I'll wear mine as a tunic over jeans, but the price was too good to pass up. I came straight home and laundered them and they came out of the wash with just five minutes in the dryer on steam and they looked great. Madeline chose the one called Burgundy, but it's really more of a rust and it's on sale for $19.99. I chose the black which is actually called Navy. It was $27.99. So if you are looking for an easy throw-on dress and not too caught up on the specifics of color, get this one or maybe both!

My friend Sheri Silver should really have a book about Popsicles. She manages to take just about any ingredient and make it into a delicious popsicle! While everyone was making the Tik-Tok coffee, Sheri was taking the food fad one step further and making Dalogona Popsicles! If coffee is not your thing…Sheri has so many popsicles and each is prettier than the last! It's like art in the form of a delicious summer treat!
And there's even more, lots more. Check them out here!

4. Propagating Plants with Hilton Carter
As part of Airbnb Online Experience, Hilton Carter is offering online classes on how to propagate plants. He begins each 90-minute session by talking about his background and his personal passion for plants and greenery. Hilton Carter has two books and both are beautiful. If you love plants, make sure to follow him on Instagram for inspiring photos and Lives where he talks about plant care. The next propagating online class is on July 20th!

5. Pot Holders
Karen Angelo makes these beautiful cotton potholders woven on a loom. They are sturdy and will last for years. They come in two sizes 6 x6 and 8 x 8. They also work well as a trivet. They are $12 for small and $16 for the large. You can see more about Karen in this post. They would look so pretty hanging on a hook in the kitchen or pantry. To order, connect with Karen on Instagram.
Where is the first place you are dreaming of traveling to when it's safe? We wish we were on our surf trip to France, it has been the topic of many dinner time discussions! At least we have our memories! You can read more here!
And make sure to pop over to see what Mary Ann – Classic Casual Home and Cindy – Rough Luxe Lifestyle are sharing today! They always have some good finds!