Today I'm joining a Holiday Home Tour hosted by 11 Magnolia Lane & Evolution of Style. If you are coming over from Julie's blog, welcome! This is my third year and there's nothing like a home tour to get the house decorated for Christmas on Thanksgiving weekend, right? We've had amazing weather, so that helped, but still, there are those last-minute ideas and forced family fun just to get that holiday photo!
Welcome to our Cottage at Christmas
Last year right as I was taking photos for the post, it started to snow. I didn't get that lucky this year, but temperatures in the 60s in Connecticut over Thanksgiving, you won't hear me complaining! You can see that post here: Modern Rustic Outdoor Spaces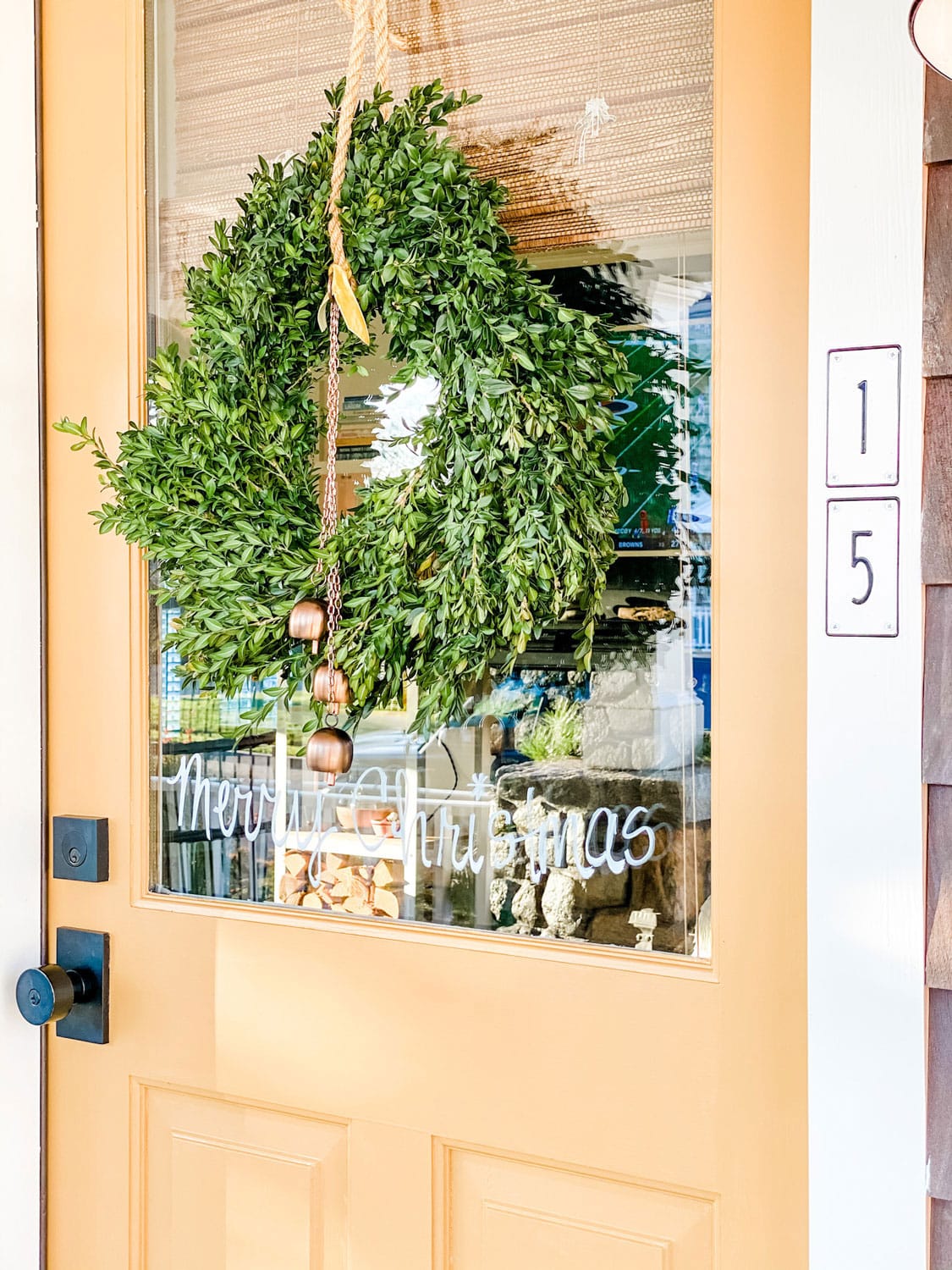 This year our door is painted India Yellow from Farrow & Ball. I knew it would work well for fall colors, but I'm liking it for the holidays too! While I wait for my wreath & garland from Lynch Creek Farms, I put a boxwood wreath from Trader Joe's on the door with bells from Hearth & Hand for Magnolia at Target and a message written on the glass with a Sharpie paint pen.
Let's Play a quick game of Scrabble outdoors
We play Scrabble every Thanksgiving and with our warm weather, I just had to make my family play a game outdoors! We built a fire and had hot apple cider and coffee in our Stanley thermos' and snacks, of course!
Hot Cider & Coffee
The Side Door gets the Holiday Treatment too!
Our house was built in 1920 and it has its share of quirky old house things. Like the door to the basement that's outside. This door also leads to our tiny (but very functional 24 sq. ft. pantry), so that means this door gets a lot of use. So why not make it festive too! You can read about lighting from Barn Light Electric in this post. I foraged everything in this space last weekend. While I no longer burn this many candles indoors, I do still love to light candles outside.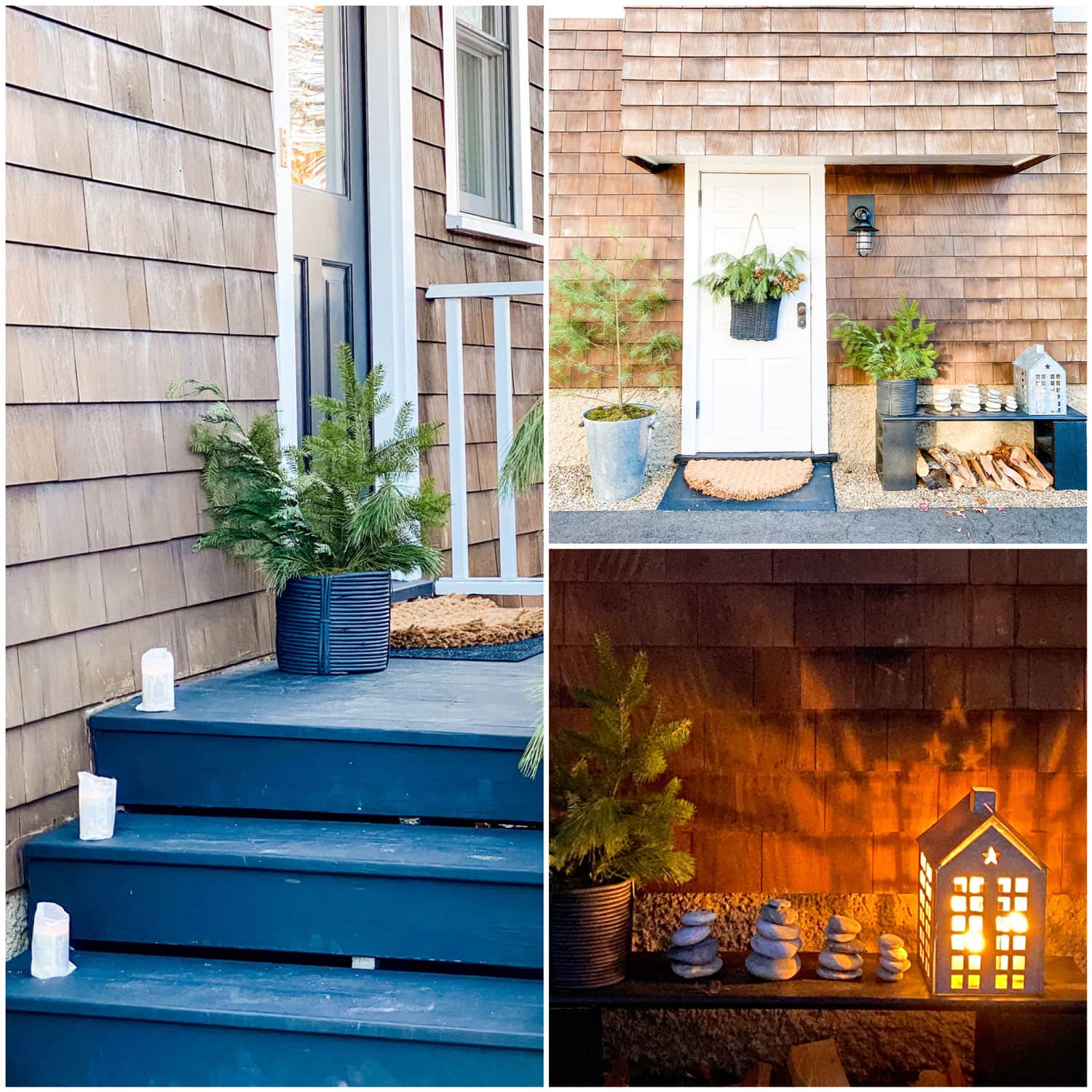 The tour continues with my friend Cindy Hattersley
Cindy has the prettiest home and gardens in California and she uses all-natural elements for a collected layered look that Cindy is known for in her home, garden, and in her personal style.
Monday, November 30th (Front Porch/Outdoor Spaces)
Southern Hospitality | Setting for Four | Southern State of Mind | Less Than Perfect Life of Bliss | Most Lovely Things | Cindy Hattersley Design | The Creativity Exchange
Tuesday, December 1st (Entries/Dining Rooms)
11 Magnolia Lane | Home by Heidi | A Stroll Thru Life | This is Our Bliss | The Pink Clutch
Wednesday, December 2nd (Living Rooms/Dens)
11 Magnolia Lane | Evolution of Style | Dixie Delights | Jessica Welling Interiors | Sincerely, Marie Designs | Classic Casual Home
Thursday, December 3rd (Kitchens/Laundry Rooms/Misc.)
Citrine Living | Quarters One | Style House Interiors | A Blissful Nest | Painted by Kayla Payne | A Stroll Thru Life
Friday, December 4th (Master Bedroom/Kid's Rooms)
Sincerely, Marie Designs | Pink Peppermint Designs | The Heathered Nest | Bloom in the Black | Evolution of Style | Dixie Delights