Print
Sweet & Salty Rice Krispie Treats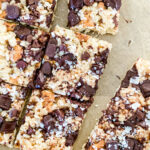 Scale
Ingredients
8 tablespoons

salted butter (

1

stick)

1

(10-ounce) bag marshmallows

3 cups

Rice Krispies

1 1/2 cups

pretzel (We used Goldfish Pretzels)

3 ounces

semi-sweet chocolate, chopped
Maldon sea salt, for sprinkling
Line the bottom and sides of a 9-inch square baking pan with parchment paper and spray lightly with non-stick cooking spray.
Melt the butter in a large saucepan over medium heat. Add marshmallows and stir constantly until smooth and melted.
Remove from the heat, add the cereal, pretzels, and stir until evenly coated and pour into prepared pan. Using a spatula, press the ingredients and even out into the pan. Then sprinkle with the chocolate pieces and press down into the mixture. Sprinkle with the flaky Malden sea salt and cut into squares. Best when served warm!
· powered by chloédigital