Happy Sunday! I hope you are enjoying the holiday weekend. I'm back again along with Cindy and Mary Ann with our favorites from the week. I'm including a recipe for the most delicious Rice Krispie treats that I made using leftover marshmallows and chocolate from the 4th of July! We spent much of the weekend at the beach and I should be including the Rockaways in my favorites, but maybe it deserves its own post! ( I wrote about our favorite place to eat in the Rockaways here),
Looking for affordable art? Avenue Print Studio opened its (virtual) doors yesterday. If you need a single piece, a pair of prints, or want to create a gallery wall, this might be exactly what you're looking for. You buy a download for as little as $8. Artist and shop owner, Ashley Villiness gives clear instructions on how best to print your art at home or you can upload your files to an online printing service like Amazon Prints or Vistaprint. You can choose the size you need! Follow along on her Instagram @avenueprintstudio for some inspirational ideas on displaying and arranging art. It's easy to see why this one made the favorites list!
I loved this article on the history of Vans. I mean who hasn't owned a pair of Vans at some point? I think my favorite is still a classic checkerboard slip-on. Well made and still only around $50 a pair.
Did you see this article about the NYC Subway Artist? For almost a month, artist Devon Rodrigues rode the subway every day sketching riders and chronicling the pandemic through his art. He is only 24 and yet he says he's been drawing and painting people on the subway since he was 15. He says the pandemic added a new dimension.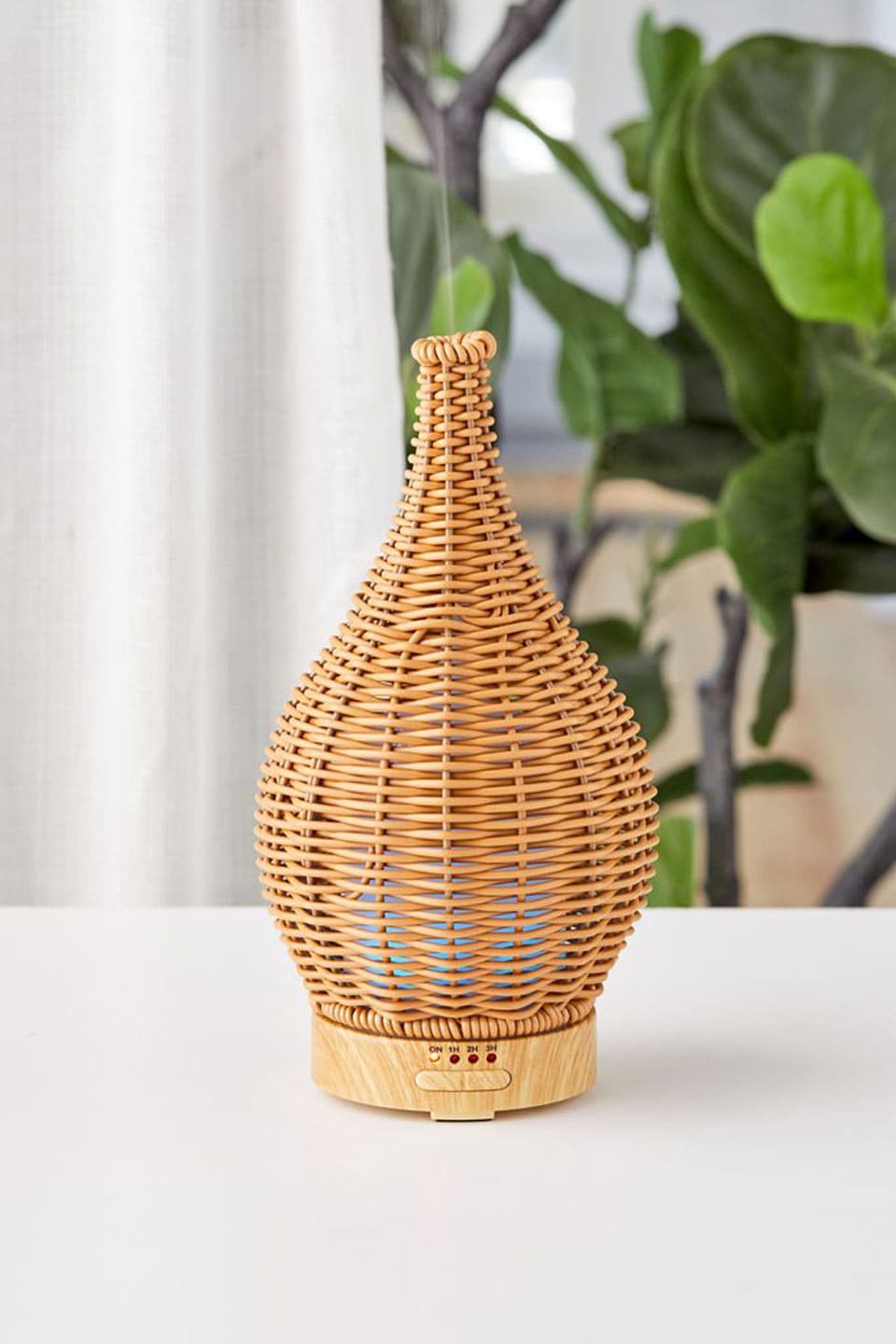 A couple of things caught my eye recently from Urban Outfitters. I love their apartment section for trendy bohemian home decor items for small spaces. Like this macrame cord set in black, this wicker diffuser, and coat rack.
Sweet & Salty Rice Krispie Treats
If you're like me and have an open bag of mini marshmallows, chocolate chunks, and a half a bag of pretzel goldfish and you always have a box of Rice Krispie (because it's Madeline's cereal of choice), well then all you need is to add butter and salt and you have the most delicious sweet and a little bit salty, Rice Krispie treats!
Print
Sweet & Salty Rice Krispie Treats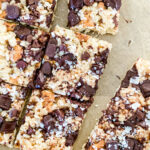 As simple as rice krispie treats, but with a few extra addtions to make them even better.
8 tablespoons

salted butter (

1

stick)

1

(10-ounce) bag marshmallows

3 cups

Rice Krispies

1 1/2 cups

pretzel (We used Goldfish Pretzels)

3 ounces

semi-sweet chocolate, chopped
Maldon sea salt, for sprinkling
Instructions
Line the bottom and sides of a 9-inch square baking pan with parchment paper and spray lightly with non-stick cooking spray.
Melt the butter in a large saucepan over medium heat. Add marshmallows and stir constantly until smooth and melted.
Remove from the heat, add the cereal, pretzels, and stir until evenly coated and pour into prepared pan. Using a spatula, press the ingredients and even out into the pan. Then sprinkle with the chocolate pieces and press down into the mixture. Sprinkle with the flaky Malden sea salt and cut into squares. Best when served warm!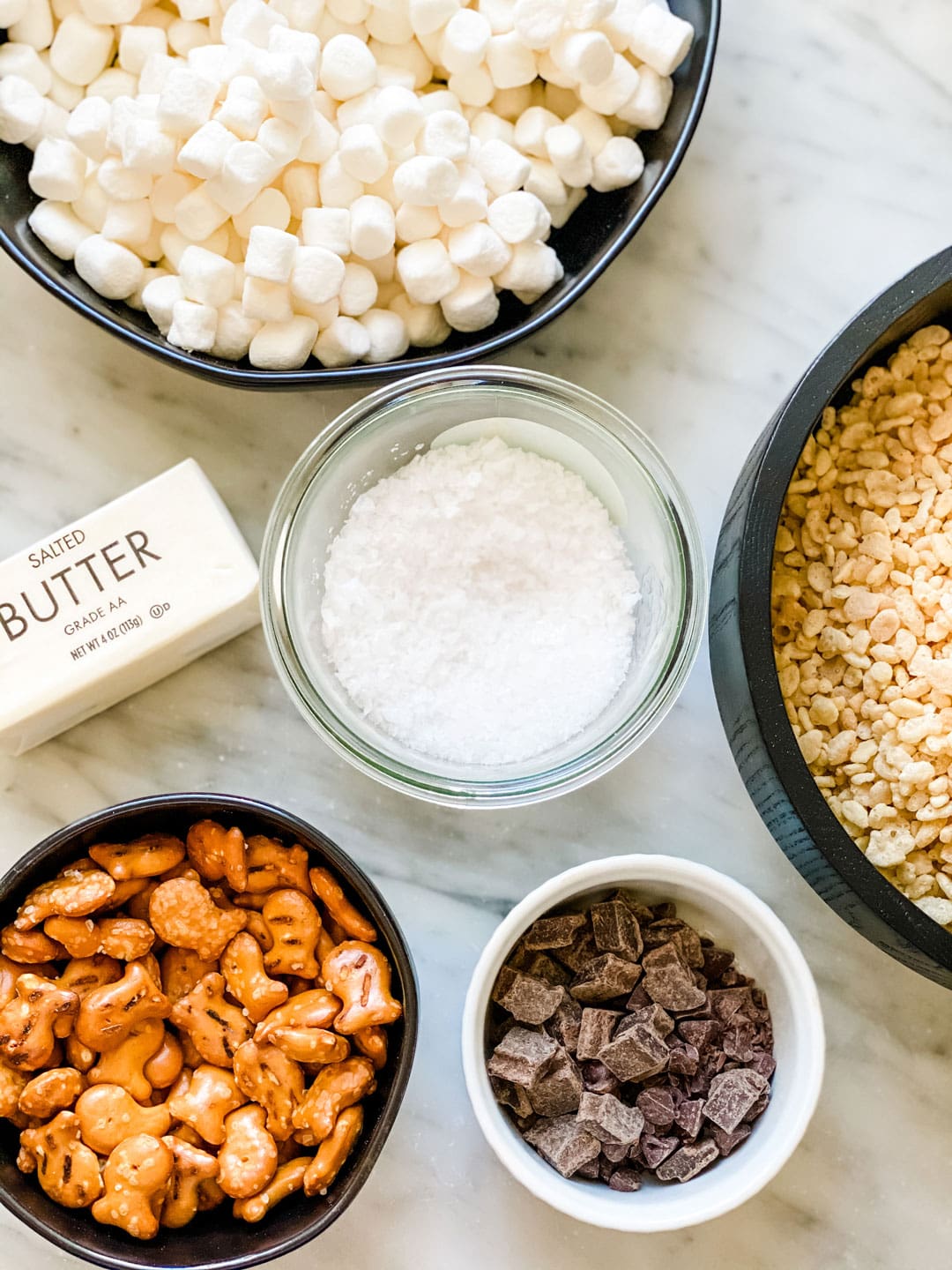 Make sure to head over and see what Mary Ann and Cindy are loving this week! They always find good things!
shop the post