I'm teaming up with my friends Cindy and Mary Ann and joining us for this Project Design: Summer Barbecue is Melaine from My Sweet Savannah, Sue from The View From Great Island, and Sheri Silver as each share their favorites for the barbecue. I'm sharing our favorite recipe for salmon and a diy citronella candle too!
Grilled Salmon, cucumber salad & a strawberry-rhubarb crumble for dessert.
Everyone needs that go to menu for a simple barbecue. That menu that's in your back pocket so when you decide last minute it would be fun to have a few friends over for dinner, you're not spending the whole day shopping and preparing the meal. This is one that comes together very quickly and has very few ingredients that you don't already have on hand. It's so simple that you'll even be tempted to make a strawberry-rhubarb crumble for dessert. We started the evening with our new favorite and super easy appetizer that I shared here.
Print
Grilled Salmon with a Brown Butter Miso Glaze
This dish is so simple and can be made on the barbecue or seared in a pan. We always keep miso paste in the freezer and then when we need it, we can easily take a scoop without defrosting it.
Author:
Prep Time:

10

Cook Time:

8-10

Total Time:

20

Yield:

4

1

x
4

–

six

ounce center cut salmon filets with skin removed

1 tablespoons

white miso paste

4 tablespoons

butter
vegetable oil and grape seed oil
Instructions
To prepare the grill: turn the grill on to a very high heat
Using tongs and a folded piece of paper towel dipped into a bowl of vegetable oil, prepare the grates by running the paper towel with vegetable oil over the grates making sure to coat the tops and sides. Do this 5 or 6 times.
To prepare the salmon: dry salmon by patting with paper towel and then season with salt and pepper. Coat filets in grape seed oil to prevent sticking. Put filets presentation side down first (or what was the the skinless side) on grill at a diagonal. Turn heat to medium-high. Space them out so they have room to cook evenly and don't touch! Let the grill do the work and when it's ready they will easily release from the grill. Turn when about 60% cooked. Filets will cook in about 8 to 10 minutes. We use a flat spatula and metal tongs to carefully turn.
For the sauce: 
Melt the butter over medium heat, stirring constantly until it turns a light brown, nutty color. Pour the butter into a small bowl and whisk the miso into the butter.
Add a splash of warm water if needed to break up the miso.
Notes
We serve this with rice prepared in a rice cooker and a simple cucumber salad made with paper thin slices from a Mandolin.  We mix with a little apple cider vinegar and sugar. The simplest of salads that balances out the richness of the brown butter miso glaze.
Keywords: grill, salmon, salmon filets, barbecue

Setting the scene (casual style, of course)
We created an additional seating area in our backyard using an old cement slab that was in terrible condition. Add a table, chairs from the dining room, string lights, candles in jars, flowers in bottles and throws on hooks for when it gets a little too chilly in the evening and it's a garden party..so to speak!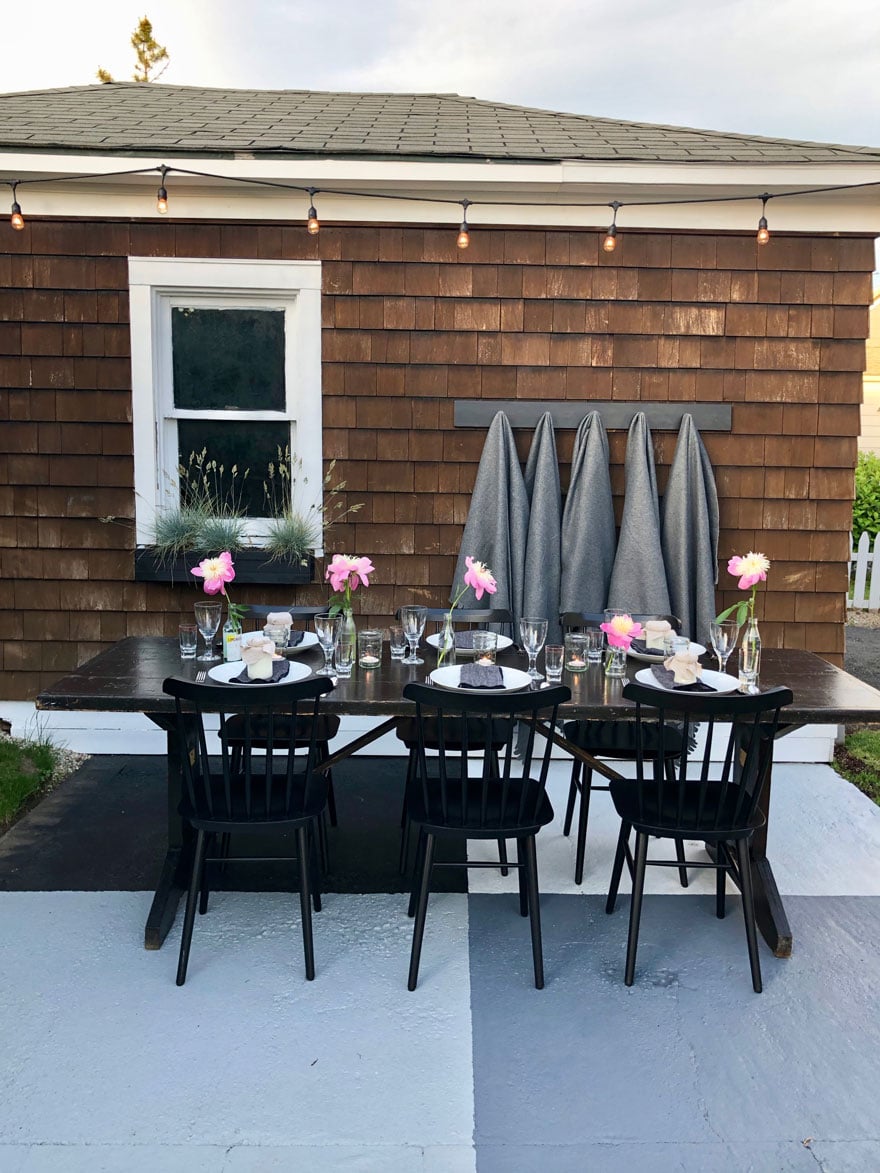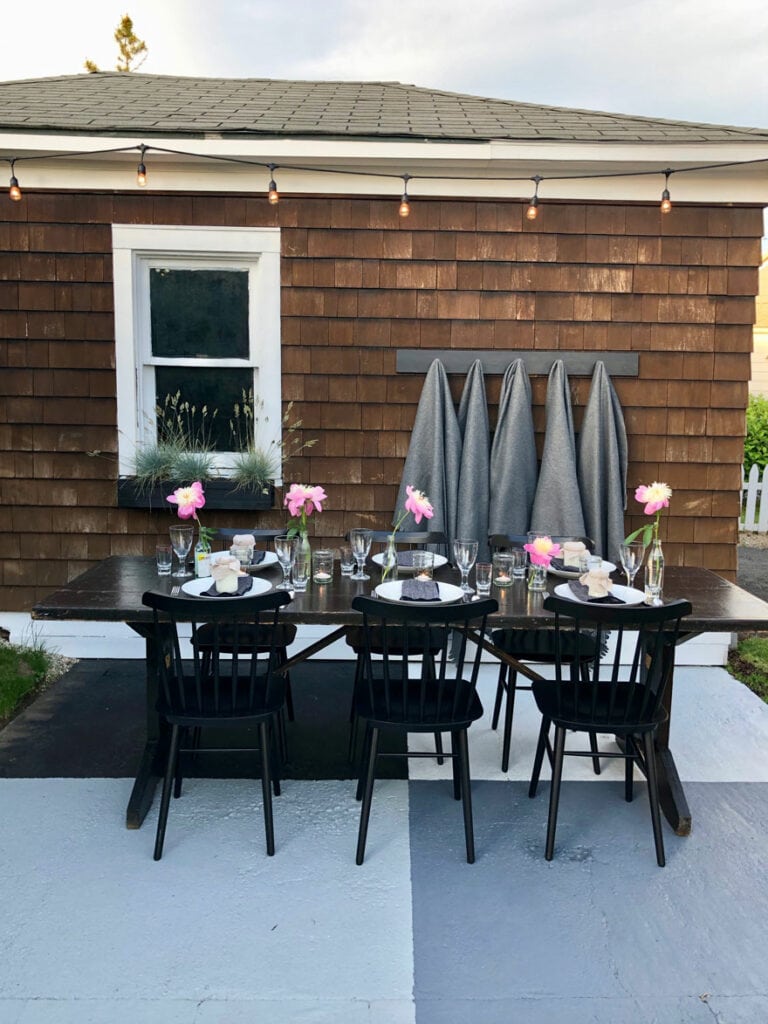 A strawberry rhubarb crumble with rose water for a simple dessert
Print
Easy Summer Barbecue menu + DIY citronella candle
Filling:
one cup

rhubarb cut into

1/4

" pieces

one cup

sliced strawberries 

1/4 cup

sugar

1 teaspoon

rose water

1 tablespoon

cornstarch
Crumble Topping
one

stick butter, softened to room temperature

1/3 cup

sugar

1/4 teaspoon

salt

1 cup

flour

2 tablespoons

rolled oats
Instructions
Preheat oven to 350º
Toss the rhubarb and strawberries with the sugar, cornstarch and rose water, mix well and set aside.
In the bowl of an electric mixer, cream the softened butter with the sugar until light and fluffy, scraping down the sides a few times as you go.
With the mixer on very low speed, slowly add the flour. Mix just unti there is no more dry ingredients, being careful not to overtax/
Add in the rolled oats and mix together. Sprinkle on top breaking it up as you spread on top of the strawberry rhubarb mixture. It's fine if there's some mixture shows through.
Bake for about 30 minutes or until the top is just starting to turn a pale golden color. 
Let cool and serve with vanilla ice cream, gelato or whipped cream. 
Make sure you check out the entire meal cooked on the grill from Cindy, gorgeous and colorful skewers from Sue, steak fajita roll ups from Melaine, turkey burgers from Mary Ann and Sheri has a grilled dessert!
DIY Citronella candles for parting gifts
We made citronella candles to give as little gifts when we say good-bye at the end of the evening. I sometimes package up tiny shortbread cookies or a sweet of some kind, but in the summer, a citronella candle that our friends can use at home to keep the bugs away, seemed just right. Ever since I started using essential oils, there's no limit to how we use them to support our family. You can read more about that here.
A simple DIY: Citronella candles with essential oil
Making citronella candles could not be any easier. You can order a few supplies from Amazon and then use re-purposed jars that you've been saving (or is that just me)?! I tied them up with a little twine and a piece of linen.
Print
DIY citronella candles
Make easy candles using citronella essential oil, soy wax, and hemp candle wicks. You can use an old pot or buy one specifically for this purpose for around $10.
1 1/2

pounds of natural soy wax
beeswax hemp candle wicks
candle making pouring pot

4

jars with labels removed
Citronella essential oil
Instructions
Prepare your glass jars. Remove any labels and place a small spot of glue on the metal part of the wick and place in the center of the bottom of the jar.
2 Allow glue to harden and then wrap the rest of the wick around a pencil and place on top of jar.
Pour 1/2 of the bag into the pouring pot and melt slowly over low heat
Once the wax has melted to a complete liquid, add in about 40 drops of Citronella essential oil
Stir with a wooden skewer
pour into 4-5 small glass jars around the wick
allow the wax to become a solid and then cut small pieces of cloth and place on top of jar securing with a piece of twine.
shop the post