The entryway of a beach cottage built in 1922
When we first purchased our new (old) home there were several things I loved, a few I didn't, and a few I didn't even notice at first. Our home was built in 1922 probably as a summer cottage. It may not have even been winterized for many years. Then at some point the entire house had been gut renovated. They did a pretty decent job. But…there's this one area that leads from the living room/entry to the kitchen and there are seven narrow walls. One has a door for a small closet, one has a Nest thermostat right smack in the middle and so that leaves five blank walls.
I'm not one to want something on every wall, but five blank walls in an awkward hallway (if you can even call it that) seemed to be about three too many. My solution was to create something visual for the wall as soon as you walk in the front door. I had seen a round wood piece in black and off-white in a mountain home on instagram. I kept going back to it and thinking it seemed like it would be easy enough to re-create. I showed it to Brent on a Saturday morning over coffee and an hour later we were at Home Depot getting the supplies.
DIY Wood Art Piece Inspiration
Here is the room that inspired this simple project. I love this interior, but it was that round black and white wood piece that immediately drew my eyes into this space. Maybe because it is exactly what I was searching for.
I want to make sure I give proper credit for the inspiration behind this DIY. I saw the image on Coco.Kelley. She credited styling by Brady Tolbert with interior design by Studio LIFE/STYLE.
The Supplies:
One round wood board that can be found in the hardwood section at places like Home Depot.
Paint (two colors or more depending on if you are mixing colors to get the shade you want)
Sandpaper
Wood pieces or blocks to mount on the wall
Screws
Tools You'll Need:
You'll need a circular saw or a jig saw to cut the wood into three pieces.
A cordless drill to anchor the 4 x 4 wood mounting pieces to the wall
Paint brushes
Level and screws for hanging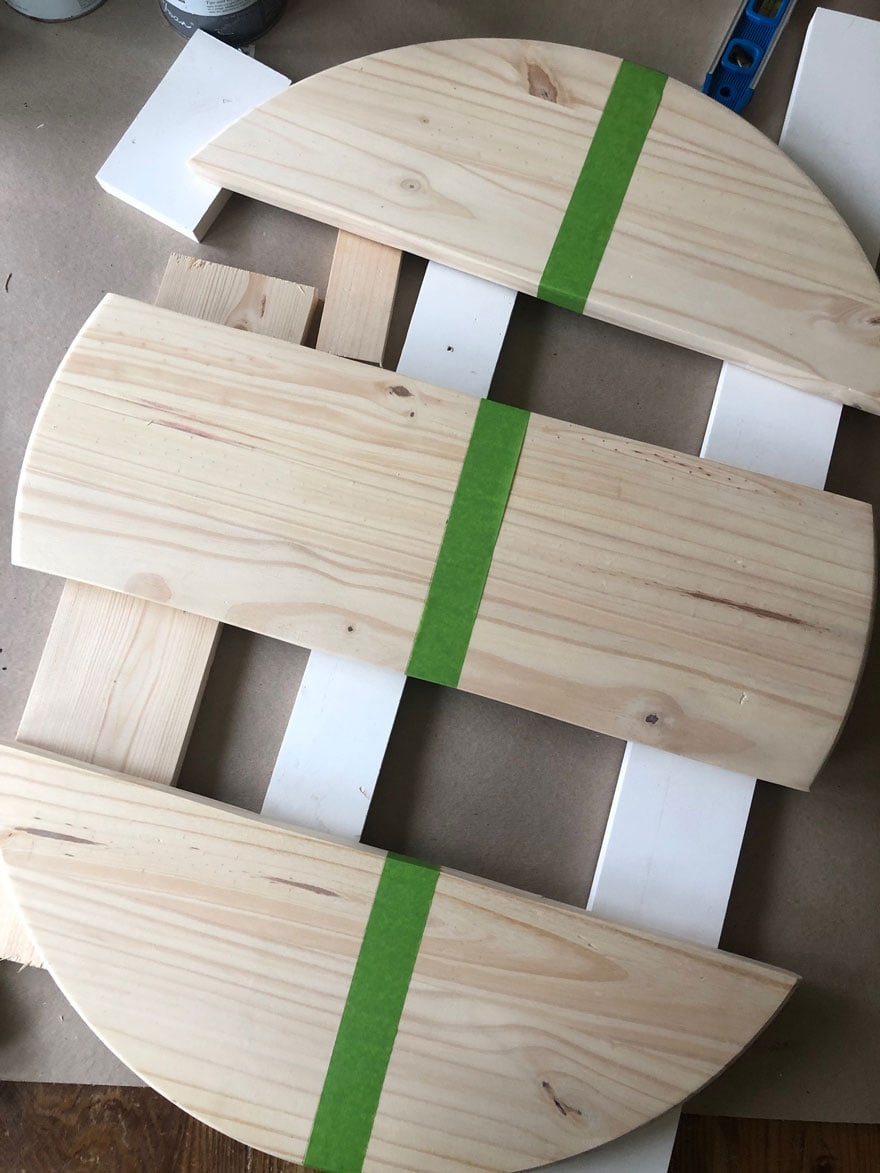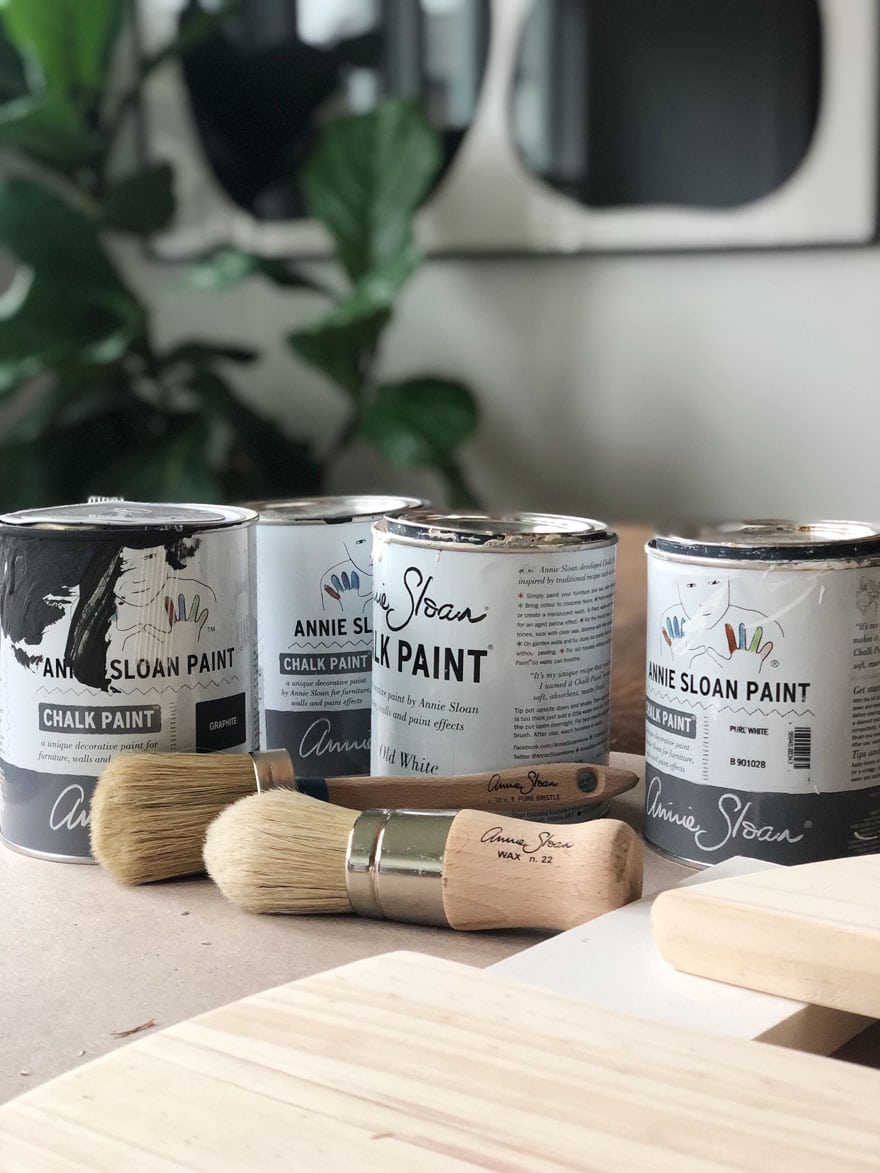 How to Steps:
The first thing we did was sand the round piece of wood. It was already pretty smooth, but we wanted to make sure there were no uneven rough spots.
We measured (twice) and marked cut lines and then cut three even parts.
We sanded the edges that we just cut.
We taped down the center and painted one side a mix of dark gray and black. (just paints we had on hand from previous projects.
We removed the tape and waited a couple of hours before taping the other side. We then painted the opposite side a creamy white. I went a little more cream considering it is going on a white wall and we wanted contrast.
We removed the tape and let it dry.
We sanded the entire piece lightly to expose some of the wood and to make it look a little distressed.
The finished piece is actually three pieces. When installed it looks like one. We mounted blocks of wood painted the color of the wall onto the wall. They are 3/4″ thick so it gives it a floating affect. The space between each if the three pieces is 1/8″. Each piece is attached to the wood mounting board with heavy duty velcro strips.
A Chalkboard Wall in 4 shades of black/gray by Benjamin Moore
Racoon Fur, Gray, Steel Wool & Black Beauty
In our former home we had a large checkerboard chalkboard wall in our kitchen. I used it not only as a calendar, but also for notes, lists and quotes. Our current home does not have the space for such a thing, but we did decide that we could take this idea an adapt it to this house. We divided one of those narrow walls into four squares and using the same paint as we did in New Canaan. We painted each square with one of the carefully selected shades of gray using Benjamin Moore chalkboard paint. Once we finished, I realized how much this wall needed a bold dose of color or pattern. And by bold color I mean intense shades of gray and by pattern, I mean blocks.
A modern piece of art by BlockShop and framed by Framebridge
I've used Framebridge several times and each time has been using original art or photographs that we sent to Framebridge. They make it very easy to either upload or actually send in your art. The first time I was a little hesitant thinking about sending off original art illustrations by Jane Mount, but once I logged on to the Framebridge website, I immediately realized the company takes you through the steps and keeps you up to date through the entire process. You send them your art and they let you know by email as soon as they receive it. You can work with a designer who can show you what your piece will look like in a few frame options. Then once you decide on the frame, mounting and all the details, they get to work. Once it ships, you receive an email with tracking. The whole process is very smooth and your framed art arrives in a beautiful box with hanging supplies so you are ready to put it on the wall.
The piece I sent to be framed was a woodblock print by Block Shop. I wanted it to be framed similar to their website and Framebridge nailed it. We couldn't be happier.
A DIY wood piece and a plant, a chalkboard wall, and a framed piece of art is all this space needed.
All hardware throughout the house, including the kitchen cabinet hardware, the refrigerator handles, the door knobs and the exterior doors is all from Emtek. We love Emtek for its quality and great design. You can read more about the hardware we chose in this post and this one. Emtek has dealers all over the country that can help you with your selection. Here is a link that will give you stores in your area.