I learned about another small business that I absolutely love from my dear friend, Sheri Silver. Sheri has a giveaway that ends tonight at 7 pm so make sure you check that out asap! The small business is Mermade in Brooklyn, New York. Meredith Siegel combines her passions of art, fashion and home design with her custom one-of-a-kind embroidered pieces. She explains the process here. I have always loved this kind of work and am constantly pinning it to several of my Pinterest boards. However, I think I'm going to have to create a board just for "Custom Embroidery" – I asked Madeline what she thought of the sweatshirts…and she lit up and simply has to have one! When I saw the college sweatshirts on Meredith's Instagram and website...I couldn't help but think what an ideal gift for college seniors or for high school seniors heading off to college in the fall. Especially this year, it might make graduation just a little sweeter considering the current situation we are facing with graduations canceled or postponed.
Enter Sheri's Giveaway here!! Ends at 9 pm 4/27
The way it works…You purchase a sweatshirt from your college or university book store and have it sent to Meredith. She explains the process on her website, you read more about that here.
You can work with Meredith and request specific colors, or you can trust her to choose the right ones…we trust her! You can send a new or a well-loved sweatshirt and have it custom embellished for around $65. Wouldn't this make a sweet graduation gift? Madeline graduated three years ago and she's so excited to order hers! Meredith also has wonderful items for Mother's day too!
She has several tea towels to choose from in her shop
Custom embroidery on the pocket of your favorite pair of jeans
I have a favorite pair of light denim jeans that are in need of a little custom embroidery. I can't wait to send them off and see what Meredith creates!
DIY Watercolor Stripe Cards

The Supplies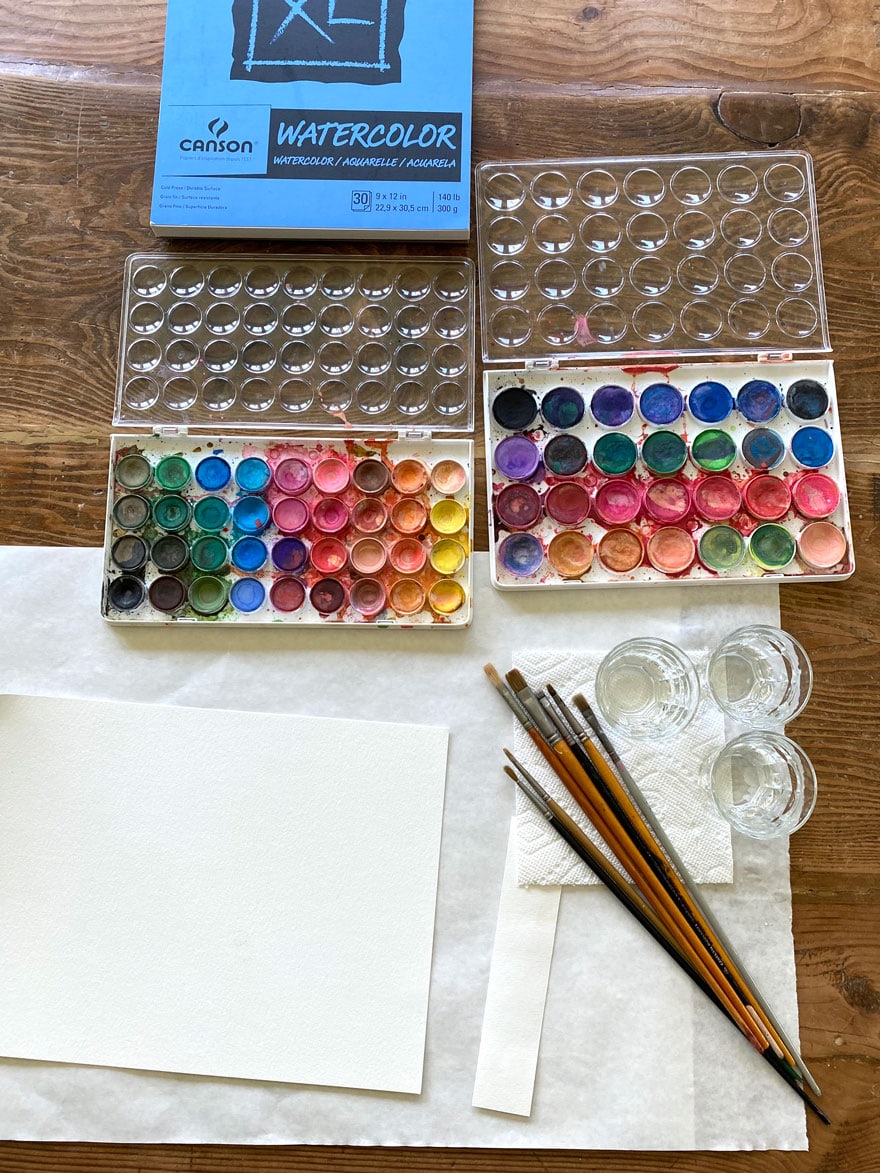 We used inexpensive watercolor paints, watercolor paper, thin markers, and a paper trimmer to make note cards to send to family and friends.
Shop for the Supplies

You may also like this post featuring small businesses!