Diffusing Citronella and DIY Bug Spray!
Ditch & switch, what does that even mean? Well, have you watched the documentary "STINK" on Netflix? I highly recommend it! Once you know about the dangers hidden in products under the word "fragrance" you realize you have no idea what you are applying to your skin when using anything with the word "fragrance" in the list of ingredients.
I now do a quick check on the Think Dirty app to see where a product rates, Clean, Half N' Half, or Dirty before I buy it. You can even scan the barcode right at the store before you purchase it. Once I realized almost everything in my house rated Half N' Half at best, I started looking for natural alternatives. And this is when I turned to use essential oils. Below are a few things I use daily on my skin ditching the commercial products for something safer!
Bug Off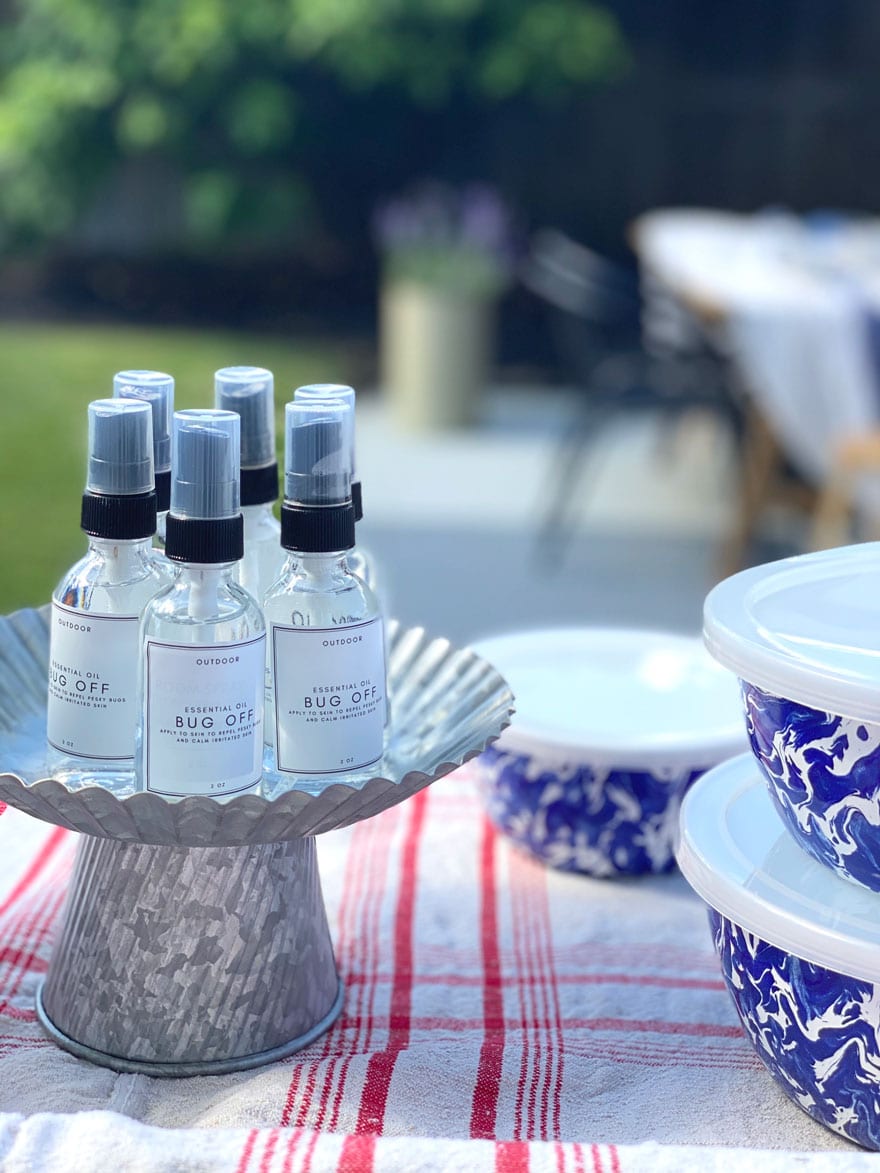 Everyone would probably be open to a safer alternative for insect repellent than the products we all grew up using. What I love about using essential oils to make a natural bug spray (besides that it works) is that I don't have to shower after using it. It smells wonderful and is completely safe to use. We live by the water and even out on our paddleboards at low tide, this is what we use! We give them to our guests at outdoor dinner parties all summer long.
Print
Bug Off
A natural alternative for insect repellent.
a

2 ounce

glass spray bottle

2 tablespoons

witch hazel

5

drops citronella essential oil

5

drops lemongrass essential oil

5

drops peppermint essential oil

5

drops lavender essential oil
top off bottle with water
Instructions
combine ingredients in a glass bottle and shake before each use.
Makeup Remover Wipes
I used to use those Neutrogena facial wipes every night, convinced this was the only way to get a cleansed face. I finally switched to using my own that I make with just a few supplies and lavender essential oil and I love it so much more!
All you need to make your own jar of make-up remover is a 4-ounce glass jar, a teaspoon each of Castile Soap, fractionated coconut oil, and witch hazel. Add in the jar with 10 drops lavender essential oil. I give the jar a little shake each time I use it. I use reusable remover pads that I found on Etsy. One side is terry cloth and sort of acts as a loofa and the other side is soft and smooth which is perfect around the eyes. I have a small container that I keep under my bathroom sink and toss in the soiled pads and then wash my towels a few times a week.
GLOW
GLOW moisturizer – This was the first DIY item I made when I got my Premium Starter Kit of oils. Brooke talked about it and I knew I had to try it. When I made my first bottle of Glow I used only lavender and frankincense essential oils. Since that first bottle, I've been learning more about essential oils I have discovered a few other oils that I add for my type of skin. That's what I love about it, you can customize each bottle just for your skin and the season. I started adding in a few drops of Blue Tansy which helps reduce redness. After only a few weeks of using morning and night, I have noticed a huge improvement. I also add a few drops of Rose essential oil which is known to help with signs of aging and also rosacea. My glow moisturizer has replaced my day and night moisturizers. Since it does not have sunscreen, I do add that to my morning skincare. I often add a drop of Glow with my sunscreen to help it blend in quicker. You can read more about how I make it in this post.
Perfume
Daisy label by @seamlyss_designs
I have not worn fragrance since I watched the documentary "Stink". Wearing fragrance was something I did every day since I was probably 16 years old. I remember buying my first bottle of Ralph Lauren and then in later years wore mostly Jo Malone. I loved the citrus colognes like the lime, basil, and mandarin or the grapefruit cologne. I now make my own using many of the same scents or I simply roll on Stress Away. Stress Away is a beautiful blend of vanilla and lime.
You might also like this post.
The Giveaway
To enter the giveaway, make sure you are following me on Instagram @most_lovely_things & @annielivingwell
shop the post

Title:
DIY Bug Spray and more + A Giveaway
Mentions:
ditch & switch, DIY, essential oils
Last Updated:
June 7, 2021