Today I am sharing the modern bohemian style kitchen by my friend Ashlyn.  I met Ashlyn years ago when we both first started blogging.  She shared the most creative DIY projects and life with three beautiful girls on her blog Pinecone – a place with some pretty.  We both lived on the west coast and around the same time we both moved East. Ashlyn and her husband have three college-age daughters and live in upstate New York.  When we met, Ashlyn was living in Gig Harbor, WA and we were living in Dana Point, CA.  At some point we both lived in Southern California and I'm pretty sure our paths must have crossed at the Long Beach Antiques and Flea Market.
I have loved seeing how Ashlyn has transformed their current home, making it the perfect nest for her family.  When she renovated the kitchen she used traditional white subway tile and chose open shelving to display her well-curated collection of dishes and glassware. Her eat-in kitchen is more of a sitting room perfect for hanging out.  I look at this space and imagine cool music playing and lots of kids hanging out sharing big ideas.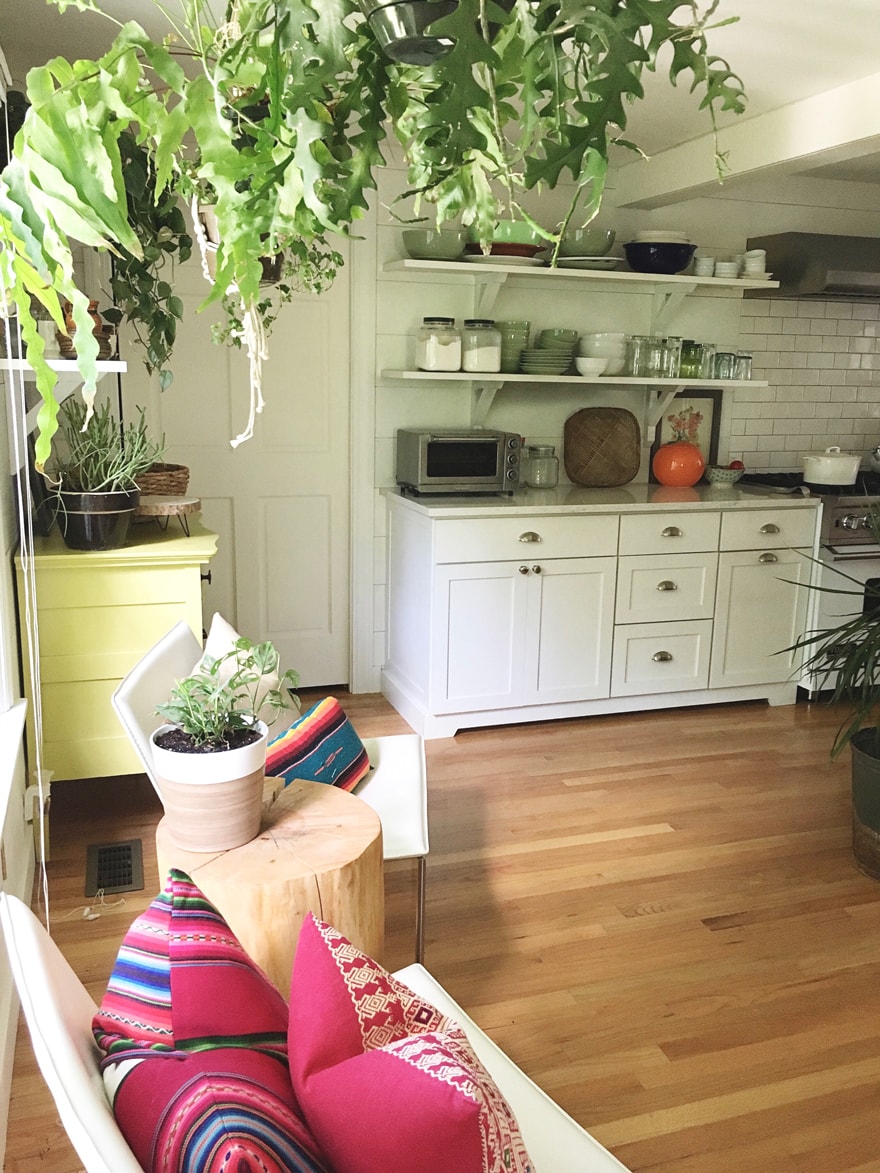 The home is a 1940's colonial with around 1,900 square feet.  She said the kitchen was in a terrible state when they bought the house and they began renovations about four months after moving in.  There was a wall separating the kitchen and small dining room and they were connected by a narrow hallway that didn't seem to serve any purpose.  Another design challenge was that the rooms were not on the same level.  They raised the step down areas to meet the rest of the kitchen and took down the wall that separated the two rooms.  She said they now have a space that promotes everyone being in the same room when the girls are home from college.  Ashlyn said, "While it's not a huge, we managed to fit everything we wanted into the space."
rustic kitchen island // counter stools // embroidered pillow from Stonehousenyc//  turquoise pillow// Serape pillow// watercolor ink flower print by LunaReef// macramé plant holder from forage & sundry// triumph lounge chairs//  pendants from Barn Light Electric // Viking Range // Durasupreme Cabinets // Cambria Countertops // black & white cactus art // counter stools// rug in front of sink from Stitch & Loom // black & white runner //
Ashlyn's Favorite places to shop:
Hudson, NY –  (blocks of design shops and restaurants)
Clementine Vintage Clothing – Andes, NY
Kabinett and Kammer – Andes, NY
Outdated – Rhinebeck, NY
The Stone House – Delhi, NY
Forage and Sundry – Troy, NY
Bluebird Home – Troy, NY
River Garden Studio – Troy, NY
Superior Merchandise – Troy, NY
Ace Hardware of Troy, NY for a huge selection of home goods that makes you feel like you've stepped into Anthropologie!
Below is a DIY project that Ashlyn shared on her blog quite a few years ago.  Not only is the project creative, but I always loved her blogging style.
Thank you Ashlyn for sharing your beautiful kitchen and your favorite places for inspiration and shopping.  Follow Ashlyn on Instagram and Pinterest.