What I love about being a part of a home tour is that it makes me do a little extra and try something new when decorating the house for Christmas.  I love fresh garland around the house, but last year the falling pine needles drove me crazy.  So this year I used a pinecone garland that I purchased a few years ago and added dried orange slices on kitchen twine and of course a strand of twinkle lights.
The only thing that takes time to make this holiday kitchen garland is drying the oranges in the oven.  I set my oven to 200º and baked the slices for about 3 hours.  They cool very quickly since it's such a low heat and holes naturally occur so you can easily string kitchen twine through the center of each. Either knot on each side or add a little hot glue to keep them from moving.
At each corner I added fresh greens from our arborvitae evergreens.  I tied a few clippings together and added three cinnamon sticks.  Then using a hot glue gun, I added an orange slice. The arborvitae evergreens do not drop needles and it has stayed green for at least 10 days so far.  When it gets a little dry, I'll just re-make them.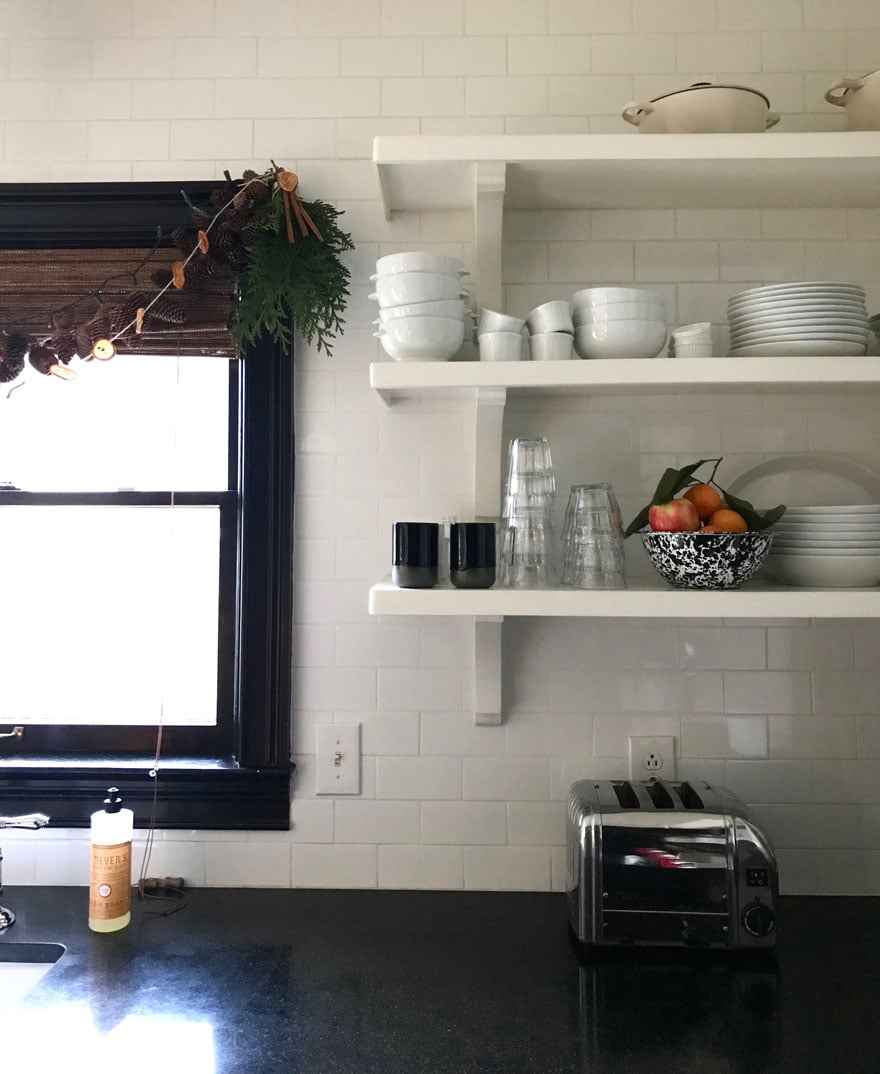 When it's dark at 4:30 a strand of twinkle lights and the scent of cinnamon and oranges is perfect to add a little warmth.  This year my entire way of decorating for the holidays was inspired by Mrs. Meyers Orange Clove Scented Dish Soap!
12 Days of Holiday Homes Recap
I want to thank the ladies that took the time and energy to create this lovely home tour – Amy and Christy from 11 Magnolia Lane and Jenny from Evolution of Style.  Below is a complete list of all the homes in case you missed any this week.  The home tour was sponsored by Lynch Creek Farm who supplied us with with beautiful wreaths.  You can the one I chose right here!
Less Than Perfect Life of Bliss
Cindy Hattersley Design/Rough Luxe Lifestyle